The Right Service & Equipment
Basic Alignment Services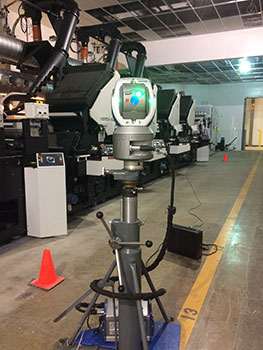 Our services vary from one client to another. We can profile a part of your machine, or we can align your machine completely. We will work with you to meet your specific needs, such as:
Profiling and diagnosing problem areas
New and old machine alignment
Limited millwright service with alignment
Detailed reports
The Right Equipment
The Right Alignment Company relies on optical and laser measuring devices because no other methods are as accurate. The jig transits from Brunson Instrument Company were specifically developed for optical tooling services and are the best tools available. The Faro Laser Tracker offers the latest high accuracy technology in 3D measuring.
In addition, we have a range of other tools and equipment that allow us to be more versatile.
The Right Alignment Company's trained technicians are certified to calibrate optical equipment, ensuring accurate alignment of your equipment every time. Our calibration station keeps our equipment consistently calibrated to NIST traceable standards and is accurate to .001 in 18 feet.